Long Term Care Insurance
The Familiar Surroundings Home Care staff is here to help our clients navigate their Long Term Care Insurance benefits. Enjoy peace of mind that your claims will be submitted on time and within carrier-specific formats.
Santa Clara County Office
(408) 979-9990

San Mateo County Office
(650) 353-9777

Santa Cruz County Office
(831) 480-3990

Contra Costa County Office
(925) 516-4912

Available 24 Hours a Day
7 Days a Week
FSHC will bill the Insurance Company every 2 weeks. This includes all invoices and weekly tasks performed by your caregiver.
We will track your elimination period.
A Billing specialist is always available to answer your questions.
An RN will assess your home care needs, write an accurate Plan of Care that will be submitted to your insurance carrier. The RN is also available to speak to the insurance company if necessary.
Proud Member of: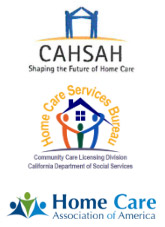 Licensed- Bonded & Insured
Full Service Agency
Lic.# 434700019–San Clara County
Lic.# 444700016–Santa Cruz County
Lic.# 414700059–San Mateo County
Lic.# 074700087–Contra Costa County