How Companion Care at Home Helps Seniors Socialize
April 21, 2023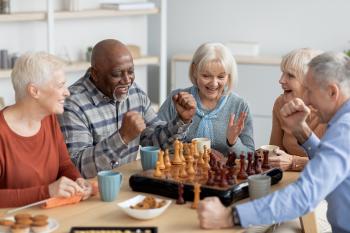 As seniors grow older, socialization and addressing social needs is more of a pressing topic for family caregivers to address. Having a strong social life can give seniors a sense of purpose, reduce isolation, and even help to prevent mental health difficulties like depression and anxiety. Socialization can also help to keep seniors' brains healthy and active, which is an essential part of aging healthfully. Companion care at home offers an answer for seniors and family members who are finding it difficult to address social needs as often as necessary.
The Importance of Socialization for Senior Citizens
Socialization has a positive impact on the overall well-being of seniors, but it can be difficult to achieve because of a variety of different factors. Socialization helps seniors to feel less lonely, which in turn reduces depression and anxiety. Social activity can also protect cognitive abilities and reduce cognitive decline. Being around other people can help seniors to preserve a sense of belonging and purpose, which also improves both self-esteem and quality of life. Being socially active helps to stimulate the brain, which makes it easier to keep the brain healthy and engaged.
Companion Care at Home Offers Exactly That
Companion care at home offers seniors someone who can stop by to visit and offer emotional support. There is not any type of personal care or other support offered as there would be with home care services, because the focus of companion care is to help seniors to stay connected with other people. This allows seniors to enjoy the benefits of socialization in a way that is not demanding on them. Caregivers might engage in a variety of different activities, like playing games or just engaging in conversation. This type of care is really helpful for seniors who are homebound or who have difficulty with mobility, but who are fairly independent in most other ways. Companions help seniors to feel a lot less isolated, which is tremendously important.
Benefits of Companion Care at Home
Companion care at home offers multitudes of benefits both for seniors and for their family members. Seniors experience both companionship and emotional support with companion care, which boosts self-esteem and can even help to keep their brains active and engaged. This in turn helps to boost quality of life, which is essential for aging adults. For family members, it's important to know that their aging family member is not left alone too much and that there is someone stopping by and checking in. It's even more important to have this help if family members live far away and can't check in personally themselves.
Socialization is a truly important aspect of daily life for seniors that often gets overlooked in the hustle and bustle of daily life. Companion care at home offers an efficient way for seniors to have the social engagement that they need, even if they don't need other types of help just yet. They receive companionship and support, reducing isolation and giving them someone to talk to when they need it most.
If you or your loved one is looking for Companion Care at Home in Aptos, CA, please call Familiar Surroundings Home Care.
Santa Clara County: (408) 979-9990 in
San Mateo County: (650) 353-9777
Santa Cruz County: (831) 480-3990