What's Keeping Your Senior from Moving More?
August 24, 2022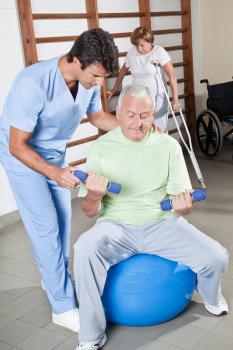 Exercise and being more physically active might be a suggestion that causes your elderly family member to fire back for a variety of different reasons why she just can't do it. Figuring out what's behind her reluctance can help you and your senior to come up with a plan for moving more than meets her needs and that keeps her safe as well.
She's Not Used to Exercising
Anyone who hasn't exercised in a while is likely to feel the burn when they try to move even a little bit. For your senior, that might feel even worse if she's got health issues that have slowed her down. The good news is that if her doctor clears your senior to exercise, she can gradually increase her movement in order to become more active.
She Doesn't Like Exercising
There's nothing wrong with disliking exercise. Lots of people don't enjoy sweating or doing any of the things that typically qualify as exercise. If that's the case for your elderly family member, she may want to start trying out a variety of different activities that help her to move more, but that maybe aren't considered traditional exercise. Doing things like gardening more or having an impromptu dance party with in-home care providers can count as movement, especially if she gets her heart rate up.
She's Concerned that She'll Injure Herself
Beyond not liking movement, your elderly family member may have a very real fear that she may injure herself. And if she has serious health issues, she may worry that moving more can cause additional problems with her health. Talking with her doctor can help your elderly family member to get over those fears.
Exercising Feels Like a Drain
For some people, exercising doesn't immediately seem to provide a lot of energy. In fact, lots of times, people can feel drained by moving more. As your elderly family member gets used to moving more, she may start to sleep better and also build her stamina, both of which can help her to experience better energy from exercise. Also, having in-home care providers there to help with other household tasks can allow your senior to conserve her energy and use it more wisely, including on exercise.
She Doesn't Want to Exercise Alone
Just as some people do not like or want to eat alone, other people don't want to exercise alone. If that describes your senior, then finding an exercise buddy might be what she needs. Joining a senior exercise class or meeting up with a friend or neighbor to exercise can be just the answer. And if transportation is a problem because she doesn't drive any longer, home care providers can take on the task of driving for her.
Exercise helps your elderly family member to become stronger and fitter, which is important at every stage of life. Getting past the barriers that are keeping your elderly family member from moving more is a challenge that can ultimately pay off big for her.
If you or your loved one is looking for In-Home Care in Los Gatos​, CA, please call Familiar Surroundings Home Care.
Santa Clara County: (408) 979-9990
San Mateo County: (650) 353-9777
Santa Cruz County: (831) 480-3990