Understanding How Much Exercise a Senior Should Get
February 1, 2022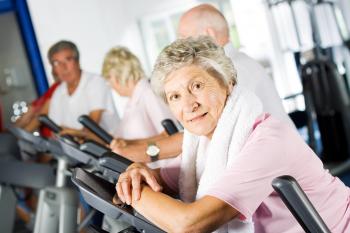 A senior may not be able to run as they used to, and they may not be able to work out vigorously anymore. But how much exercise should your parents really be getting? The CDC recommends every person gets 150 minutes of exercise per week but is that true for seniors too? Seniors over the age of 65 should be getting 2.5 hours of moderate exercise every day; this equals to around 30 minutes of exercise a day. However, not all seniors can work out the same intensity.
Some seniors may find that they like certain workouts better, while others consult with a physical therapist about exercises. If a senior has a disability, they may need to talk with a physical therapist or doctor more than other seniors. A senior will also have to understand their own bodies and look at what workouts will suit them best. A senior who struggles with walking may not feel comfortable enough with hour daily walks but may like short ten-minute walks with one-hour yoga classes. It is important to find a routine that works for a senior. If they seem to be struggling a lot, it may be time to find someone to help them out around their home. People like in-home care providers can help a senior's life more comfortably.
In-home care specialists may not have degrees in nutrition or understand what exercises a senior can do, but they can help ensure a senior stays safe and comfortable. This may be something easy but something you cannot provide your parents when you work full-time or have your own family.
Easy Ways To Get 30 Minutes of Exercise a Day
There are several ways seniors can attempt to get thirty minutes of activity every day. The most important thing to encourage is to ensure the seniors are listening to their bodies. This means if something doesn't feel good or right, they need to stop and find a different exercise. Suppose some exercises leave them feeling good and relaxed. In that case, they may want to find a routine that focuses more on those exercises. Here are some workout ideas that they can start to experiment with.
Trying Out a Local Class
Even if a senior lives on their own but inside of a community, they may hold workout classes. This is a fun way to get out and meet other seniors who are trying to get healthy but also a good way to move around for a few minutes. These classes may be as short as 30 minutes which can be perfect for some seniors looking for mild workouts.
Include Hobbies
All seniors should have hobbies that they like. Hobbies come in all forms and many of them allow a senior to get out of the house and move around. Easy things like joining a community garden will help get a seniors blood pumping.
Dancing
Many seniors may enjoy dancing classes. This is not like going on a run but it is more gentle on the body while still being a good workout. It is also a way to maintain social interaction even as someone ages.
If you or your loved one is looking for In-Home Care Los Gatos , CA, please call Familiar Surroundings Home Care.
Santa Clara County: (408) 979-9990 
San Mateo County: (650) 353-9777
Santa Cruz County: (831) 480-3990