Personal Care at Home Tips for Extra Senior Shower Support
April 6, 2023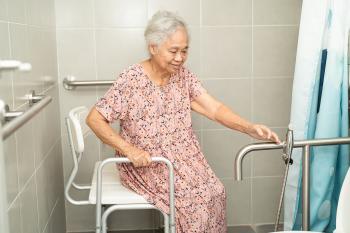 Morning showers are posing a problem for your mom since her fall. Stepping over the side of the tub is the first challenge she faces. Reaching the shower wand when she's settled on the shower seat is also hard. Fear of falling again plagues her.
It's time to talk to her about the benefits of caregivers. She doesn't have to shower on her own, and she doesn't have to have her privacy invaded while having help with grooming and hygiene. Talk to her about personal care at home aides.
How Is Your Mom's Privacy Protected During a Shower?
Talk to caregivers about your mom's concerns for privacy. Many know some tips to make her feel more at ease. This may include putting on a cotton or terry robe, removing one arm to wash it, and putting the robe back on before switching sides.
If a robe isn't a suitable option, towels or sheets also work well. The goal is to offer your mom some sense of modesty as her caregiver is washing the different areas of her body.
A shower wand also helps. Your mom's caregiver can use a body puff or sponge on a handle or a washcloth glove and wash her skin that way. The hand-held shower wand makes it easy to rinse her off.
Invest in a Shower Chair
A shower chair heightens safety during a shower. Instead of having to have someone hold her up if her legs start to give out, she has a comfortable chair to sit on during the shower. Some have handles, which is helpful when she stands up or sits down.
There are shower chairs that attach to the shower wall and fold down. If that's not possible, look for a shower chair that has rubberized, suction cup feet to ensure it doesn't slide when your mom is standing up or sitting down.
Have Her Wear Non-Slip Shower Shoes
To prevent your mom from slipping on tiles or an acrylic, porcelain, or fiberglass/resin tub or shower floor, non-slip shower shoes provide the grip she needs. A suction-cup bath mat is also helpful.
The shoes should fit her feet and not slip off, so avoid flip-flops if possible. Look for slip-on shows that have mesh that allows water to get through and to help the shoes dry quickly after your mom's done her shower.
Install Grab Bars
Grab bars are an important addition to an older adult's shower area. The bars should be both inside and outside the shower and be attached to wall studs. Grab bars cannot just be attached to sheetrock as that won't support your mom's weight if she starts to lose her balance and grabs a bar.
Don't make your mom struggle with grooming and hygiene tasks. If her strength or dexterity is changing and personal care routines are challenging, arrange to have personal care at home aides to help her.
If you or your loved one is looking for Senior Home Care in San Mateo, CA, please call Familiar Surroundings Home Care.
Santa Clara County: (408) 979-9990 in
San Mateo County: (650) 353-9777
Santa Cruz County: (831) 480-3990