Senior Home Care Health Tips for Men
March 29, 2023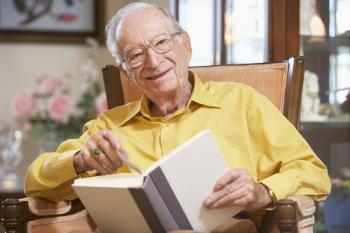 Senior men should be focusing on health, especially if they have an interest in aging in place. Not all seniors desire to go to a nursing home and prefer having senior home care help around their home. Senior home care can help a senior man develop a healthy routine and help them focus on things that will improve the quality of their lives. Living at home takes work, and senior home care can help make these steps easier. Here are some things a senior man should focus on when trying to age in place.
Focus on Getting Enough Sleep
A senior man may have been busy their whole lives, and now they might have bad sleeping habits. One thing they should focus on is a sleeping schedule. This means going to bed at the same time every single night. Why? It helps the body prepare for bed. A senior may not feel tired, but when they stick to a routine, they may fall asleep easier because their body knows it's time for bed. Sleep is crucial for any senior to focus on. This is the time their body processes what happens throughout the day, and it's crucial for mental health. Getting enough sleep can also help improve memory and concentration, reduce the risk of depression, and decrease the risk of developing chronic diseases such as diabetes and heart disease.
Go To The Doctor
Now, this doesn't just mean you need to go to the regular doctor, but you need to see all doctors. This means a dentist, a physical health doctor, a therapist, and any other doctor who must provide regular checkups. As a senior gets older, their health problems may be more complex and need to be monitored more. They also need to focus on mental health, which means they need to go to a therapist who is a doctor more than once a year; they may even have to go once a month or even once a week, depending on their mental health goals.
Focus on Learning Something New
Learning new things is the best way to keep a senior feeling happy mentally and physically. Learning a new hobby or craft allows a senior to activate their brain and boost their connection to the world around them. It may keep their minds sharp and reduce stress when they are living on their own. Senior home care can even help a senior get to a new place to do a new hobby or learn something at a community center.
Focus on Diet
All seniors, whether they are men or women, should always focus on eating the right food. Finding a well-rounded diet not focused on processed foods is crucial to aging well. Senior home care may help a senior prepare fresh foods that are less packaged and even take them grocery shopping if necessary. Ensure your senior eats tons of vegetables and fruits daily and find meals they fall in love with. This is the chance to start cooking with your senior dad and learning their family recipes or teaching them a new recipe.
If you or your loved one is looking for Senior Home Care in Palo Alto, CA, please call Familiar Surroundings Home Care.
Santa Clara County: (408) 979-9990 in
San Mateo County: (650) 353-9777
Santa Cruz County: (831) 480-3990