Elderly Adults and Occupational Therapy: What Do You Need to Know?
June 10, 2020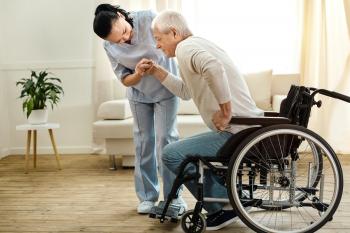 Are you concerned about how your elderly loved one will take care of themselves? If so, you might want to consider getting help from an occupational therapist. They can help your loved one with daily activities, memory loss, and exercise regimens. If you have been looking into occupational therapy but want more information, keep reading here today.
Occupational Therapy Benefits for Your Elderly Loved One
Occupational therapy can help an elderly adult to stay safe. It can help with their mental state and can help them live on their own. Some benefits of this type of therapy include the following:
Help them from falling. An occupational therapist can help your elderly loved build muscle, so they can increase leg strength. This will help them from falling when they walk around
Keep them safe. An occupational therapist can help your elderly loved one create a safe physical environment. They can give them tips on how to install grab bars, handrails, and other safety gadgets.

Memory loss. Occupational therapy often focuses on mental health conditions. Therapists use brain training exercises to help people strengthen their brains.
One reason that occupational therapy might be used is for someone who has had a knee or hip replacement. Occupational therapists can help them learn how to regain strength so they can do everyday chores.
Activities for Your Elderly Loved One When Participating in Occupational Therapy
There are some activities that an occupational therapist might ask your loved one to participate in. Some of these activities strengthen their body, help them with memory loss, and show them how to de-stress. Just remember, it is important to have your loved one speak with their doctor before they begin doing any new activity. A few activities that an occupational therapist might suggest to your elderly loved one include the following:
Range of motion exercises

Memory exercises

De-stressing exercises

Relaxing exercises

Walking outdoors
All of these exercises are designed to help people live by themselves. If you have questions regarding any of them, it is best to speak directly with your elderly loved one's occupational therapist or personal physician. It might be best to have caregivers around when your elderly loved one starts doing a new activity.
In-Home Care and Occupational Therapy Services
There are also some occupational therapy tools that your elderly loved one can use at home. Some of these include the following:
Setting small goals. Occupational therapists can teach your loved one to create small goals. This will help them to achieve larger goals, as well.

Be patient. The occupational therapist can also teach your loved one how to have more patience, so they can accomplish their goals.
Comfortable clothing. Occupational therapists might recommend that elderly adults wear more comfortable clothing, so they can move around easier.
Another thing you can do when it comes to in-home care is to celebrate every time your loved one achieves a goal. This will give your elderly loved one the motivation needed to move forward with other goals.
Conclusion
Occupational therapy can help your elderly loved one continue the journey of living by themselves. It is highly recommended by many medical professionals. If you need more information about whether occupational therapy is best for your elderly loved one, please with their doctor.
If you or your loved one is looking for a Caregiver in Saratoga, CA, please call Familiar Surroundings Home Care.
Santa Clara County: (408) 979-9990 
San Mateo County: (650) 353-9777
Santa Cruz County: (831) 480-3990
Sources
https://www.ncbi.nlm.nih.gov/pmc/articles/PMC6090526/
https://www.consumeraffairs.com/health/elderly-occupational-therapy-benefits.html