Home Care's Best Summer Cleaning Tips For Seniors
August 8, 2023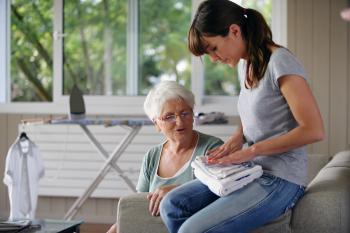 Cleaning can be challenging for seniors that are aging in place. As seniors get older and develop more physical problems tasks like cleaning can increase the risk that seniors will fall. Every year there are more than 36 million falls reported among seniors. Those falls can cause serious injuries that seniors may not recover from.
The repetitive tasks of cleaning can also cause seniors injuries like strained muscles. One way that seniors can make cleaning easier is to get home care. A home care provider will help seniors keep their homes clean and sanitary by doing light housekeeping and helping seniors cook meals and wash dishes.
Use A Rolling Cart
A great way seniors can do the household chores and protect themselves from falling is to use a rolling cart. A rolling cart can be loaded with cleaning supplies like rags or paper towels, cleaner, and sponges. Then it can be wheeled around the first floor of the home with seniors using it like a walker for support. Seniors can grab onto the cart if they need something to help their balance when they bend over or stand up. A rolling cart is also a smart way for seniors to move heavy items like loads of laundry.
Put Chairs In Smart Locations
Seniors who know they will need frequent breaks while cleaning should put a folding chair or a stool in the locations where it makes sense for them to sit down. Putting a stool in the hallway near the closet will allow a senior who is vacuuming the hallway to sit down for a minute if they need to. Putting a stool in front of the sink means that seniors can wash the dishes sitting down. Anywhere a senior might logically stop to rest while cleaning is a good place to put something for them to sit on.
Know When To Wait For Help
It can be difficult for seniors to accept that they need help or may not be able to do tasks they've been able to do before. But seniors should know their limits when it comes to cleaning. There's nothing wrong with waiting for a home care provider or a family member to do some of the cleaning. Seniors should get comfortable with the idea that some cleaning tasks need to wait until someone else can do them.
Keep Cleaning Supplies On The Counter
Another thing that can make cleaning easier for seniors is to keep cleaning supplies on the counter so that seniors don't need to bend or reach for them. When the cleaning supplies are kept below the counter in a cupboard or high up on a shelf it can be difficult for seniors to reach them. Seniors can injure themselves bending over or stretching up to get those cleaning supplies. Keeping them within reach on the counter allows seniors to easily grab them.
If you or your loved one is looking for Home Care in San Jose, CA, please call Familiar Surroundings Home Care.
Santa Clara County: (408) 979-9990 in
San Mateo County: (650) 353-9777
Santa Cruz County: (831) 480-3990