5 Benefits of Senior Home Care
May 26, 2023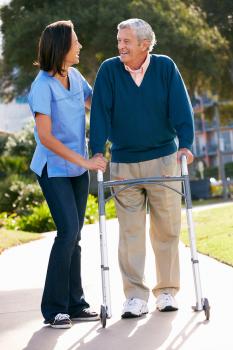 As seniors age, the comfort and familiarity of their homes become ever more important. Home can represent so much, including independence, while also offering a sense of stability. But aging adults often need help because of changes in their health and physical abilities. It's still possible to live independently, even when it's challenging, with the help of senior home care professionals. Home care offers tremendous benefits to seniors, but also for family members who are worried about the people that they love.
The Comfort of Home
One of the most significant benefits of senior home care is the ability for seniors to receive care in the familiar and comforting environment of their own homes. Home is where seniors tend to feel safe and secure. It's where they are surrounded by comforting memories and personal belongings. Being in this familiar environment can reduce feelings of disorientation or confusion that can sometimes accompany cognitive changes and other health issues.
Personalized Care
Home care offers a personalized approach, tailored to the specific needs of each individual. A professional caregiver can adapt to the routines and preferences of the senior, providing care on their terms. This might involve help with bathing and dressing, meal preparation, medication reminders, or mobility assistance. Senior home care providers can also adapt as a senior's needs change, providing more intensive care if necessary.
Cost-Effective Solution
Senior home care can often be a more cost-effective solution compared to other types of care, like assisted living facilities. Elder care eliminates the cost of room and board associated with residential facilities. It also offers flexibility, allowing for part-time, occasional, or around-the-clock care depending on the individual's needs. This flexibility can result in significant savings for families, while also keeping beloved family members at home.
Companionship and Social Interaction
Loneliness and social isolation can have serious health impacts on seniors, leading to an increased risk of depression and cognitive decline, among other issues. Caregivers provide much-needed companionship, offering a friendly face and a listening ear. They can engage seniors in conversation, participate in their favorite activities, or accompany them on walks or outings. This social interaction can significantly enhance a senior's emotional well-being.
Improved Health Outcomes
With the right support and care, home care can lead to improved health outcomes for seniors who find themselves dealing with increased challenges related to chronic health issues. Regularly scheduled visits from a caregiver can ensure that changes in health are noticed promptly, allowing for quick response and intervention. Caregivers can also assist with managing chronic conditions, encouraging healthy habits, and offering other assistance as needed. All of these can contribute to improved health, reduced hospital readmissions, and a better quality of life.
Aging comes with its share of challenges, including chronic illnesses, mobility issues, and cognitive changes. However, with the right support, seniors can navigate these challenges while maintaining their independence and quality of life. Senior home care provides that support in a familiar, comforting environment. And when needs continue to change, caregivers can continue to be there for aging adults.
If you or your loved one is looking for Senior Home Care in Redwood City, CA, please call Familiar Surroundings Home Care.
Santa Clara County: (408) 979-9990 in
San Mateo County: (650) 353-9777
Santa Cruz County: (831) 480-3990