When siblings Can't or Won't Help
October 14, 2019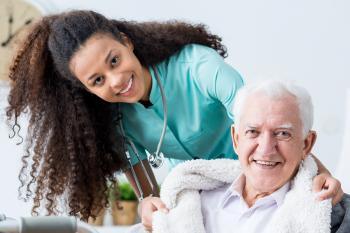 Dealing with a parent who is aging and may have complex medical conditions, or may be losing the ability to remain at home alone can be tough, especially when the weight of the situation and responsibilities fall upon one person who may have a family and household of their own to care for.
Sometimes it is not possible for all siblings to take an active and even role in the care of an aging senior due to logistics like living in another state, or even another country.
Other times rifts can develop within the family when due to known or unknown factors, certain family members or siblings refuse to help.
This can take a toll on the person who feels like all of their parent's health decisions and daily care and safety fall on them, and stress can quickly accumulate.
If you are feeling alone and frustrated with the responsibility of all that caring for your parent involves, here are a few tips:
Hire help.
Your parent may not yet need help around the clock, but one of the great benefits of hiring a home care agency to help with the daily household and health needs of your senior is that you can choose when they come and how long they stay. Even a few hours a day or week of hired home care can give you back the time that you need to care for yourself and your family, as well as offer companionship to your parent.
Get support.
There are both in-person and online community groups and forums out there for people just like you! Sometimes just knowing that you are not alone and that there are other adults out there with the same challenges and responsibilities can make all the difference. Having someone to vent to and offer ideas and suggestions can be invaluable to your well-being, so reach out and talk to others who can offer support to you like no one else can.
Ask for help.
This may not always be a possibility, but sometimes family members caring for their loved ones want and need help but haven't asked. It may seem obvious that you are overwhelmed and that the care required for your parent is more than one person can handle alone, but sometimes people don't realize the amount of time and energy it takes to get all the daily home and health needs taken care of. If you have a sibling or family member that may be willing to help, ask them! You may be surprised and get some much-needed assistance.
Take care of yourself.
If you are losing sleep and letting your own needs go before the needs of your parent, eventually it will take a toll on your own health. It takes an enormous amount of mental and physical energy to care for a senior at home alone, and if you don't take the time to put yourself first, you won't have what it takes to be able to care for anyone else.
Hiring a home care aide to help assist you, along with seeking a supportive and knowledgeable community and taking time for self-care can go a long way in making the most of caring for a senior at home without the help of siblings.
If you or your loved one is looking for Home Care in Belmont​, CA, please call Familiar Surroundings Home Care.
Santa Clara County:
(408) 979-9990
San Mateo County:
(650) 353-9777
Santa Cruz County:
(831) 480-3990