Touching Animated Movies for Your Kids and Parents to Enjoy While You Clean
February 25, 2020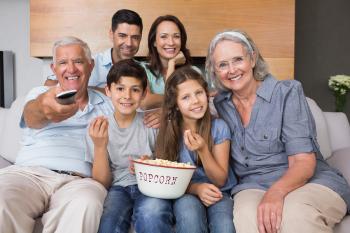 Family caregivers balance time for cleaning, cooking, errands, and general care tasks. When your parents or kids keep asking questions, it keeps you from getting some things done. On the day you set aside for cleaning, an animated movie buys you the time you need to start laundry, change sheets, and clean the home.
You need a movie that appeals to both your parents and your kids. These touching animated movies are perfect for all ages.
Bambi
It's hard not to cry at the moment Bambi's mother is taken from him. Released in the 1940s, Bambi is the coming-of-age story of young deer, their family, and their friends. Bambi learns the realities of growing up in the forest from his dad, mom, and friends.
Coco
A boy grows up in a household where music is banned. He wants nothing more than to play his songs, but his family is adamantly against it. He enters the Land of the Dead to unravel the mystery and meet his great-great-grandfather to learn why the ban got started.
Despicable Me
Despicable Me introduced the Minions to the world. These cheery little yellow creatures are workers for Gru, a supervillain who's annoyed that a rival has stolen the Great Pyramid of Giza. Not to be outdone, he decides to steal the Moon. To do so, he must get back a shrink ray that's stolen from him. Getting it is tougher than he imagined, yet he spies three young girls who do it with ease.
He decides to adopt the girls when he learns they are orphans. He plans to use them to his advantage. What he doesn't plan on is falling in love with them.
Up
Pixar's Up tells the tale of a widower who always promised to take his wife to Paradise Falls in South America. When builders continue to push Carl to sell his home, he continues to fight them. One is injured and Carl is ordered to move from his home to a retirement community. He will not cave, so the former balloon salesman inflates enough balloons to lift his home up and away from the growing city.
His plans go awry when a Russell, a young boy, stops by to earn his merit badge for helping the elderly. Russell becomes a stowaway that Carl ends up befriending along the journey.
Have you considered hiring an elderly care aide to help out? You should celebrate the time spent with your parents by doing things you all love. Let a caregiver clean the home and do the laundry. You can use the time saved to play games, watch movies, or go for a walk. An elderly care specialist can help you make arrangements.
If you or your loved one is looking for Elderly Care in Santa Cruz, CA, please call Familiar Surroundings Home Care.
Santa Clara County: (408) 979-9990 
San Mateo County: (650) 353-9777
Santa Cruz County: (831) 480-3990