Best Transportation Options for the Elderly
April 21, 2022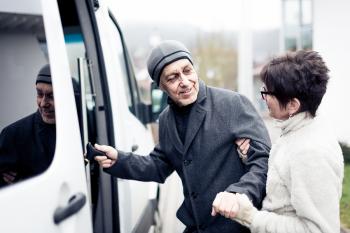 When caring for your elderly loved one, one consideration you may have to make is who will drive them around town, to appointments, to visit friends, and to other places, as well. It could be a lot if you have to do all the driving for yourself, your family, and your elderly loved one. This might be impossible, to say the least. However, there are other great transportation options for the elderly that you can consider.
Biking
One of the transportation options for the elderly is biking. Now that your elderly loved one can't drive anymore, getting them a bike could be a good idea. This is especially true if they live in town or are very close to trails or sidewalks. Basically, if the trips are just a few minutes away on a bicycle, this could be an option for your elderly loved one. However, it is important to always have a backup plan, such as home care assistance services for transportation, in case the weather is bad or your elderly loved one doesn't feel like riding their bike.
Taking Public Transportation
Another way that your elderly loved one could get around is by taking public transportation. Most counties or cities have a mode of public transportation. Some cities have multiple bus options. Many of these also have discounted senior citizen fares, so your elderly loved one won't have to break into their savings just to go somewhere in town. The problem with these modes of transportation is that your elderly loved one may have to wait on them to arrive as they can usually show up within a half an hour time frame from when the ride is booked. In addition, sometimes, these buses are packed with people and it takes longer to get to the destination than planned.
Home Care Assistance Services
If your elderly loved one needs transportation, it may also be a good idea to hire home care providers. They offer home care assistance services that include transportation. For example, if you have these services booked for your elderly loved one every weekday, then the senior care provider can come to pick them up and take them wherever they need to go. You may even have home care providers on standby so that if your elderly loved one needs to go somewhere that wasn't planned, someone can come to pick them up at that time.
Conclusion
Does your elderly loved one need transportation? If so, the options that are noted above would be a great start for always making sure your elderly loved one has the ride that they need. Just remember that with bicycling, the weather may be rainy or snowy, in which your elderly loved one may have to cancel their plans without another ride. With the public transportation, the bus may be late causing your elderly loved one to get frustrated. The most trustworthy option would be to get home care assistance services.
If you or your loved one is looking for Home Care in Menlo Park, CA, please call Familiar Surroundings Home Care.
Santa Clara County: (408) 979-9990
San Mateo County: (650) 353-9777
Santa Cruz County: (831) 480-3990
Sources
https://www.aarp.org/caregiving/home-care/info-2020/transportation-services.html