Proper Nail Care for Seniors
February 14, 2023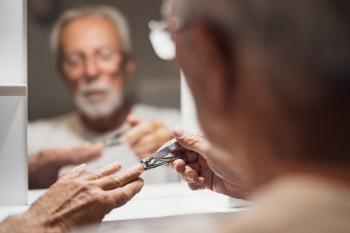 How often do you trim your dad's nails? One of the leading causes of declining mobility is foot pain. Are your dad's feet troubling him? It could be something as simple as nails that are growing too long.
Even though you're used to cutting your own nails, you might find it difficult to take care of your dad's nails. What are the proper steps to follow when trimming your dad's nails?
Have Him Bathe First
Nails are easier to cut when they're damp. Time nail trims to occur after his bath or shower. Once he's dried and dressed, have him sit down and put his feet up on a hassock or footstool.
Trim Them Straight Across
Always cut your dad's nails straight across. Do not cut them at an angle as that increases the chances of ingrown nails. You want the nails cut to a length where they do not extend beyond the fingers or toes, but you don't want to cut them so short that you nick the nail bed.
Use appropriately sized nail cutters. Get toenail cutters for his feet and fingernail cutters for his hands.
File Rough Edges
Once you've cut his nails, use an emery board to file down any rough edges. You're aiming to file the edges so that there are no pointy or sharp corners.
Apply a Nail Conditioner
Once the nails are trimmed and filed, consider applying a nail and cuticle conditioning oil to help avoid splintering or cracks. You don't have to spend a lot of money on this. Vitamin E oil is suitable and can be applied with a cotton swab.
Finish With a Moisturizing Cream
The skin on the hands and feet can become very dry as collagen production decreases. Once the nails are trimmed and filed, finish by applying foot cream or hand cream to help moisturize your dad's hands and feet. It keeps them from cracking which increases the chances of infection.
Schedule Regular Visits With a Podiatrist
How often does your dad see a podiatrist? He may never have seen a foot specialist, but he should. Schedule an appointment with a podiatrist to have his feet checked for issues. A podiatrist can also trim his nails, take care of problems like corns or ingrown nails, and give you additional care tips.
Have Personal Care Aides Assisting With Nail Care
If you're not comfortable trimming your dad's nails, hire a personal care at home aide to take care of it. Your dad's toenails shouldn't reach a point where they're injuring his neighboring toes or making it painful to walk.
Personal care at home services help with nail and skin care. His caregiver can cut and file his nails and apply a foot cream. Learn more by talking to a specialist in personal care.
If you or your loved one is looking for Home Care in Belmont, CA, please call Familiar Surroundings Home Care.
Santa Clara County: (408) 979-9990 in
San Mateo County: (650) 353-9777
Santa Cruz County: (831) 480-3990