Home Care: What You've Heard Isn't Always the Reality
February 7, 2023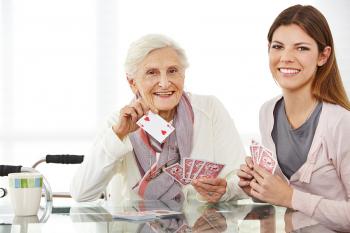 So many misconceptions surround home care services. You may have heard things like home care aides are unreliable. They don't show up on time, or they sit on their cellphones all day and ignore their client.
What you hear from others isn't always the reality. It's important to learn more about the things home care aides do for their clients.
Caregivers Will Not Work in Homes Where There Are Pets
While uncommon, you may find a caregiver from time to time who has allergies to dogs or cats. That can make it hard for that caregiver to help your dad as it impacts the caregiver's health.
It's easy to bypass any misunderstanding or frustration by telling the agency that your dad has a cat or dog. Make sure the animal is well-known so that a caregiver who will work in a pet-friendly household is scheduled.
If your dad needs help caring for his pets, some caregivers may help out with that care. Your dad's caregiver can remind him when it's time to feed his dog or help him clean the cat litter box.
Home Care Aides Often Arrive Late and Leave Early
One of the worries families often share is that a caregiver will routinely arrive late and leave early. They worry about their parents being left alone for hours without advance notice.
This doesn't happen with agency caregivers. If a caregiver has a pressing appointment or personal emergency and has to leave early or arrive late, the agency sends a substitute. Your dad is not going to be left alone.
You Can't Tell What a Caregiver Does All Day
This is also incorrect. You'll get regular reports from the home care agency with what the caregivers have done, noticed, or feel your dad may need more help completing. If he's getting help with something that he seems able to do on his own, the caregiver will update you and recommend changing those services.
You're Not Allowed to Visit When the Caregiver Is There
You are most certainly welcome to visit when a caregiver is with your dad. But, you cannot expect the caregiver to wait on you when you're visiting. If you stop in for lunch, bring your own food. Even better, you could bring lunch for everyone and offer to have the caregiver join you and your dad for the meal.
Wash your dishes when you're done. It's not the caregiver's responsibility to clean up after you. Remember that the caregiver is there to help your dad and only your dad.
What does happen is your dad has a friend stopping by regularly and keeping him company. He has a driver when he wants to go out, and a friend to play games with when he wants to stay in. Home care widens his social circle while supporting him with housekeeping, laundry, and meals.
Home care services are an excellent way to support your dad's desire to age at home with the security you want for him. Talk to a home care specialist to start making the arrangements.
If you or your loved one is looking for Home Care in Belmont, CA, please call Familiar Surroundings Home Care.
Santa Clara County: (408) 979-9990 in
San Mateo County: (650) 353-9777
Santa Cruz County: (831) 480-3990