Why Seniors Should Have Personal Care At Home During The Winter
November 18, 2022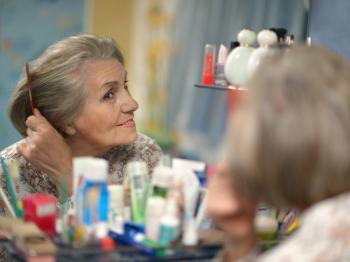 The days are getting shorter, the weather is getting colder, and soon the weather will be getting wetter. Whether you live in an area with rain or snow during the winter, going out and running errands or doing things can be tough for seniors in the winter. So can getting out of bed, showering, getting dressed, and moving around the house when it's cold. This can affect seniors in many ways, including their personal care.
Seniors who don't drive are likely going to skip routine personal care tasks like manicures and pedicures, haircuts, and shaves when the weather is bad. But not taking care of themselves physically can make seniors choose to isolate themselves from others because they are embarrassed about how they look. With personal care at home seniors can look their best throughout the winter with help from a care provider in their homes. Personal care at home includes a wide range of services like:
Bathing And Showering
The biggest benefit to personal care at home for seniors is that seniors will be able to safely bathe or shower on a regular basis. When it's cold out and seniors need to get in and out of the shower they may rush because they're cold and fall, injuring themselves. With a caregiver who is helping them safely bathe or shower and get dressed in warm clothes seniors are less likely to have a serious fall or accident in the bathroom. Caregivers are trained to help seniors of all abilities with personal care so they can help a little or a lot depending on what your senior parent needs.
Daily Hygiene
When seniors get up each they even if they are not showering each day they need to watch their face, brush their teeth, take care of their skin, and apply deodorant. Seniors with poor grip strength, inability to balance, or other physical challenges can have a really hard time doing those things. But with help from a trained caregiver seniors can perform daily hygiene tasks and feel confident in how they look and smell, which is important when people are visiting and there will be hugging and close personal contact.
Makeup And Hair
Senior women can be very sensitive about they look, especially if there are going to be family pictures taken. So your senior mother or sister will probably want to make sure her hair looks great and maybe wear some makeup. But it can take skill and coordination to style hair and also to apply makeup in a way that looks subtle and attractive and not costume-like. A caregiver can help senior ladies fix their hair exactly the way they want and help them apply makeup so they look great when family and friends come over or when they attend holiday parties or take family photos and videos.
Shaving
Senior men may need help taming their overgrown facial hair and making themselves look the way they want to look also. A caregiver that is trained to provide personal care can help senior men shave and trim their facial hair for a well-groomed appearance.
If you or your loved one is looking for Personal Care at Home in Redwood City, CA, please call Familiar Surroundings Home Care.
Santa Clara County: (408) 979-9990
San Mateo County: (650) 353-9777
Santa Cruz County: (831) 480-3990