Tips for Helping Immobile Senior Citizens
May 25, 2022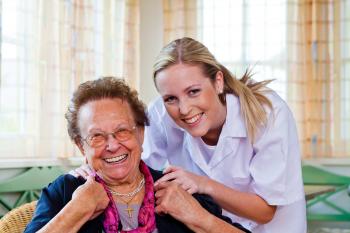 If your elderly loved one has mobility issues, it may affect them mentally, emotionally, socially, and physically. Research shows that once an aging adult is no longer able to walk, they can become depressed, anxious, and lose all their independence. They may not feel like leaving their home at all. If your elderly loved one is immobile, there are some tips to help them feel better.
Focusing on What Your Elderly Loved One Can Do
While it is important to give your elderly loved one time to grieve the loss of their mobility, you should still try focusing on what they can still do. For example, if your elderly loved one is still able to dry dishes after you or a home care provider washes them, encourage them to do this. If they can't walk, but they enjoy going outside, focus on encouraging them to get personal care at home. Then, the senior care providers can take them outside to go on walks or just to enjoy the fresh air.
Developing Routines
If your elderly loved one is no longer able to walk, it is important to help them develop routines. The more you or an in-home care provider can get them up and moving, the less likely they are to experience problems due to being bedriddent. Some of the things that can be a part of their routines include:
Socializing

Doing hobbies

Reading

Making healthy meals

Exercising

Going outside

Grooming

Exercise

Medications

Sleeping

Eating
Talk with your elderly loved one to have them help you create their routines.
Home Safety
Another tip for helping immobile senior citizens is home safety. It may not seem like you need to worry about this since your elderly loved one won't be up walking around on their own. However, they can still run into things with their wheelchair or fall down stairs with their wheelchair. It would be a good idea to block off any stairways and make sure all floors are picked up to reduce clutter that could get in the way.
Hire Caregivers
Now that your elderly loved one is immobile, they are going to require a lot more care. It might become difficult for you to do all the tasks they need help with. For example, you may be able to help them around their house or run errands for them, but who is going to help them with toileting, bathing, etc.? You can always get personal care at home for your elderly loved one.
Conclusion
Is your elderly loved one immobile? If so, they may need time to grieve the loss of their independence, but it is important to still encourage them to develop routines, get outdoors, continue their hobbies, and do other activities to keep busy. If you need some help ensuring that your elderly loved one is doing all these activities and getting the care they need, don't hesitate to get them personal care at home.
If you or your loved one is looking for Personal Care at Home in San Jose, CA, please call Familiar Surroundings Home Care.
Santa Clara County: (408) 979-9990
San Mateo County: (650) 353-9777
Santa Cruz County: (831) 480-3990
Sources
https://www.nidirect.gov.uk/articles/equipment-people-disabilities