How to Talk to Your Aging Adult about Senior Care
May 26, 2021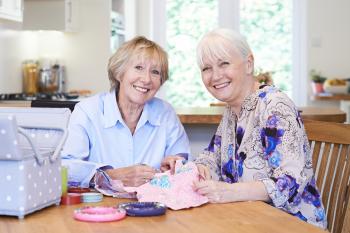 If you've been dreading talking to your aging family member about help in the future, you're not the only one. Lots of family caregivers find it difficult to have this talk.
Avoid Splitting Your Attention or Hers
When you are ready to talk about hiring senior care services, make sure that both you and your aging family member are fully there for the conversation. Avoid starting the talk when you're in the middle of something else or when either of you can't commit to talking then. Interruptions aren't going to help.
Start Talking to Your Senior Before Her Health Fails
It's going to be much better if you start to have these talks well before your elderly family member's health starts to decline. Talking about senior care services in advance gives both of you time to prepare. She may not need help now, but she probably will in the future.
Ask Her about What She Wants
These talks are about how you can accommodate your senior's needs when the time comes. With that in mind, it's vital that you lead with questions about what she wants from her future. What are her goals as she ages? Is it her plan to age in place for as long as possible? You both need to be clear about that.
Ease into Senior Care with Services that Matter to Your Senior
If you start out with the most personal of ways that senior care services can help your elderly family member, your likely to lose her before you get anywhere else. Your elderly family member doesn't want to think about a day when she might not be able to get dressed on her own, so don't start there. What other tasks might she need help with before that time?
Set it Aside if You Have To
Not every talk about home care goes how you expect it to go. You might think it's a good time to have this talk and then quickly find out that you've hit a nerve. Step back and regroup. If you're starting to have these talks early enough, there is still a little bit of time for you to try again from a better angle.
Eventually you and your aging family member are going to have a plan for how you each expect things to go in the near future. This will be very helpful even if her situation changes in ways you can't predict just yet.
If you or your loved one is looking for Senior Care in Los Gatos, CA, please call Familiar Surroundings Home Care.
Santa Clara County: (408) 979-9990 
San Mateo County: (650) 353-9777
Santa Cruz County: (831) 480-3990