How Can Companion Care at Home Help Your Senior Avoid Dehydration?
August 2, 2022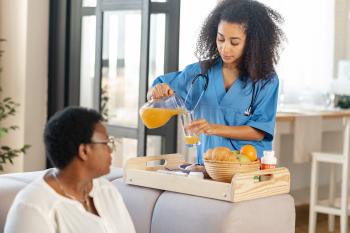 Dehydration is dangerous for everyone, but especially for seniors. Finding ways to help your elderly family member to get the right amount of water for her needs each day can help her to avoid heat-related illnesses, dehydration, and other issues that could be related to medications or health issues. Having a little extra companionship can sometimes be the extra bit of assistance that is missing for your senior.
Learn How Much Hydration Your Senior Needs
It can be a bit of a surprise to realize that every human being has different needs in terms of hydration. There are a lot of general guidelines out there, but they're truly just guidelines. Talk with your senior's doctor about how much water she should be drinking on a regular basis. This amount might change depending on health issues and the types of medications she's taking. It can also vary based on how active your senior is.
Set up a Routine for Hydration
Once you've got an idea how much hydration your senior truly needs, it's time to set up a schedule and a routine around helping her to hydrate. Companion care at home can be a huge help with routines and schedules, because they can remind your senior to sip water as they spend time with her. This can then be a low-pressure solution to ensure that she stays properly hydrated.
Include Foods That Are High in Water Content
Lots of people don't enjoy drinking as much water as they should. That's why it's helpful to remember that foods that are high in water content can be just as hydrating as water itself. Home care providers can help steer your senior toward snacks and meals that are better able to help her meet her hydration goals. Eating a few more foods each day that contribute to hydration means your senior may not need to drink as much water.
Look for Fun Water Alternatives
There are other water alternatives, too, that can be a little more fun for your senior. Gelatin, especially sugar-free versions, as well as popsicles or water flavoring drops can be great choices. Another idea is to try out herbal teas, particularly citrus or berry versions, that taste great and don't need sweeteners for flavoring. Sipping cold herbal teas can be lovely in hotter weather.
Encourage Her to Avoid "Losing" Water
Water loss is what happens when someone sweats excessively and doesn't properly hydrate to replace that water. Staying inside during the hottest parts of the day is one way to reduce water loss for your senior. Companion care at home can help your senior to avoid feeling bored during those times of day. There's someone there with her to keep her company and to remind her to sip some additional water.
Companion care at home can make your senior's life easier and happier in a variety of different ways, including helping her to stay hydrated, all of which contribute to helping her to be much more content as she ages in place.
If you or your loved one is looking for Companion Care at Home in Aptos, CA, please call Familiar Surroundings Home Care.
Santa Clara County: (408) 979-9990
San Mateo County: (650) 353-9777
Santa Cruz County: (831) 480-3990