Can In-home Care Providers Help Your Senior with Chronic Pain?
July 12, 2022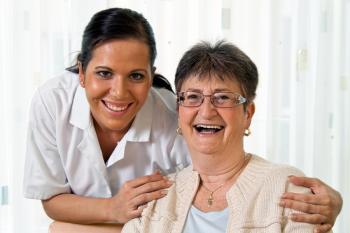 For so many seniors, chronic pain is just a part of daily life. Whether your elderly family member is experiencing chronic pain because of old injuries, illness, or some other reason, it's vital that she's able to find ways to manage the pain. Her doctor and other medical providers can help with many aspects of pain management but having help from in-home care providers can also be a huge help.
Offering Practical Help with Chores
Chronic pain can seriously impact your elderly family member's ability to take care of routine tasks that are necessary for her to have a safe and healthy home. Those daily chores often can't go long being neglected before they cause big problems for your elderly family member in one way or another. In-home care providers can handle those tasks for your senior, allowing her to rest when she needs to. This can enable your elderly family member to continue to age in place for as long as she wants to do so.
Reminding Your Senior to Move as Recommended
Movement can sometimes be beneficial for issues with pain, particularly if that movement helps to keep your senior strong. Pain might be keeping your senior from moving as much or as often as she really should, however, especially if your senior's doctor has recommended that she keep moving. Having reminders from elder care providers can help your senior to stay on target with her movement goals.
Watching for Signs of Trouble
Balance problems, worsening pain, and any negative side effects can all be big issues for your elderly family member. Having caregivers there to help if she's experiencing side effects or other signs of trouble can help your elderly family member to feel safer in her home. Knowing that she isn't alone can also help you and other family members to feel comfortable.
Helping Maintain Safety at Home
Beyond watching for signs of trouble, there are other ways that in-home care providers can help to protect your senior's safety at home. Removing clutter and maintaining a clean environment enable your senior to enjoy her home safely. Alerting you to larger safety issues is another way that caregivers are able to help keep your senior as safe as possible.
Offering Emotional Support
Being in chronic pain can take a huge toll on your senior emotionally, as well. Having someone there with your elderly family member who understands what she's going through and who can offer companionship means more than you might think. Avoiding loneliness and having someone just to talk to on a regular basis can help to keep your senior from withdrawing from other people.
Even though chronic pain is a big part of your senior's daily life, that doesn't have to mean that she's dealing with everything all by herself. Having the help that she needs can go a long way toward helping her to have a much better quality of life and keeping her in her home for as long as she wants to age in place.
If you or your loved one is looking for In-Home Care in San Jose, CA, please call Familiar Surroundings Home Care.
Santa Clara County: (408) 979-9990
San Mateo County: (650) 353-9777
Santa Cruz County: (831) 480-3990