Senior Home Care Tips to Help Seniors Avoid Scams While Traveling
July 14, 2023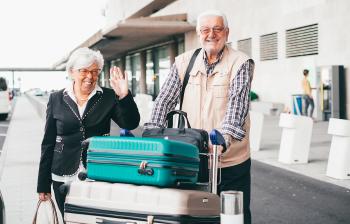 Seniors are often targeted by scammers when they are traveling as well as when they are at home. When seniors are on vacation they need to be especially vigilant to protect themselves. Being careful about travel scams starts when booking the trip.
Vacation rental sites and third party hotel booking sites can really be scams in disguise. Seniors with senior home care should let their senior home care provider help them book their accommodations in advance to make sure that the listing seems legitimate. When in doubt, book directly through the website of a reputable hotel.
Never Keep Money in Pockets
Pickpocketing has been around since people had pockets to pick, and some can be so good at their craft that seniors will never notice until it's too late. When traveling, seniors should always keep money or jewelry in a cross body bag that they wear under a shirt or a jacket. Or they should wear a wallet or pouch on a special safety belt that goes under their clothes.
Never Take a "Free" Item
A very common scam in some areas is for a shop keeper, salesperson, or street vendor to put something in a senior's hand as a "free" gift but then accuse them of stealing the item and demanding payment for it. Usually the items that are thrust into senior's hands are either food items like fruit or sweets, handmade bracelets, or other small items. Seniors can avoid falling for this scam by keeping their hands closed and never taking anything they haven't purchased.
Book Excursions Through a Hotel Or Travel Agent
Half the fun of going on vacation is exploring new places. But when booking excursions or day trips, seniors and their families should always book those tripos through the hotel they're staying at or through a travel agent. Seniors can also book day trips online when they book their trip. Avoid booking excursions from strangers hanging out around the hotel at the last minute. Often those people are scammers trying to catch unaware tourists.
A typical excursion scam will involve a stranger taking money in exchange for a guided trip or some kind or the use of some type of equipment like a jetski. Then the guide either will disappear with the money or claim that the equipment was damaged and demand a large payment. Your loved one's senior home care provider or travel agen can help them research excursions in their vacation spot to avoid the headache.
Never Use Public Phone Charging Stations
In places where there are a lot of tourists that are using their phones to take photos and videos, some scammers have set up what looks like public phone charging stations. But the charging devices really will steal financial and personal information from any phones plugged into them. To avoid this, seniors should make sure their phones are fully charged when they leave the hotel. It's a good idea to bring along a solar or battery operated charger so it's not necessary to look for a public charging station.

If you or your loved one is looking for Senior Home Care in Belmont, CA, please call Familiar Surroundings Home Care.
Santa Clara County: (408) 979-9990 in
San Mateo County: (650) 353-9777
Santa Cruz County: (831) 480-3990