Heighten Home Safety in the Early Stages of Alzheimer's
March 16, 2022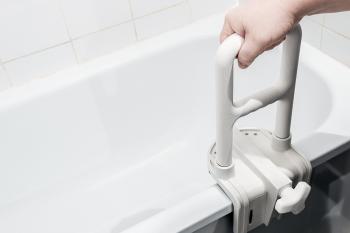 Your dad's been diagnosed with Alzheimer's disease. Now is the ideal time to go through his home and consider a variety of safety measures. Use this checklist to make sure he can age at home safely.
Place Contrasting Tape in Front of Stairs
Depth perception worsens as Alzheimer's progresses. To keep your dad from accidentally falling on the stairs, place colorful strips of painter's tape a couple of feet from the landing and bottom of the stairs.
Lock Away Medications and Cleaners
When you think of home safety for someone with Alzheimer's, you have to think about baby-proofing the home. Cleaners and medications need to go into a locked cabinet. You don't want your dad taking additional doses of vitamins or prescriptions because he can't remember taking them.
Another issue you may encounter involves your dad mistaking things like window cleaner as a mouthwash. He might see Lysol cleaner and think it's oil. You can't trust him to read or understand a label as the disease progresses. If you put these items into a locked cabinet, you don't have to worry.
Install Grab Bars
It's best to install grab bars in the early stages of Alzheimer's. He'll have time to adjust to them being there. Grab bars should be behind and to the side of his toilet, on all three walls of a tub/shower combination, or at least two walls in a shower stall. You might want to add one more grab bar on the wall next to the entrance to his bathtub or shower.
Consider Non-Slip Flooring
The time comes when your dad shuffles his feet instead of taking steps. Non-slip flooring can keep him from slipping and falling. There is vinyl flooring that looks like wood but is waterproof and non-slip. It's an attractive option that many DIYers can install themselves.
Add Bright Lighting
There will come the point where shadows and dim lighting create fear and anxiety for your dad. Sundowning is difficult in Alzheimer's disease as it usually goes hand in hand with paranoia, distrust, and agitation.
To limit sundowning, make sure every room is brightly lit. Install timers that turn the lights on before a room becomes shadowy. You might want to consider smart bulbs that you can turn on remotely with your phone when you're out. If you make sure rooms are bright and reduce shadows, sundowning may not be as prominent.
Hire Caregivers
Keep your dad safe by making sure home care services are available to support him. Caregivers stop by as often as he needs and help with everything from meal preparation services to transportation. With regular caregiver visits, your dad has time to familiarize himself with his new home care aides and feel secure as the disease progresses.
If you or your loved one is looking for Home Care in Atherton, CA, please call Familiar Surroundings Home Care.
Santa Clara County: (408) 979-9990 
San Mateo County: (650) 353-9777
Santa Cruz County: (831) 480-3990