Five Questions You Need to Ask Your Parents During National Fire Prevention Month
October 7, 2021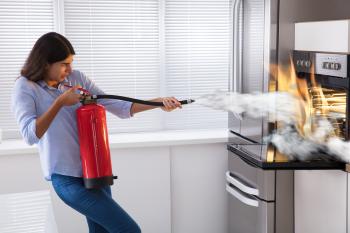 National Fire Prevention Month falls in October every year. It's an excellent time to address something that's often overlooked. Talk to your parents about fire safety and go over fire prevention tips by asking them these five questions.

Is Their Home Set Up With a Home Fire Escape Plan?

How safe is your parents' home when it comes to fire safety? Their plan must include having working smoke/heat fire detectors, carbon monoxide detectors, an escape plan with two ways out of a room, and a designated safe spot to meet up.

How Often Do They Practice Their Escapes?

They should practice the escape routes twice a year. They could do them at the same time they change batteries in their alarms and detectors.

Do They Test Their Alarms and Detectors Each Month?

They need to test all of their devices once a month. Ideally, invest in smoke detectors and carbon monoxide detectors that are connected. If there is a kitchen fire and your parents are in the bedroom, the alarm goes off in their room.

Is Their Heating System Cleaned and Inspected?

They need to have their boiler or furnace cleaned and inspected at the end of the heating season. If your parents do this before the next heating season starts, they don't have to worry about a fire or carbon monoxide issue caused by blocked vent pipes or other issues.

If they heat with wood, they should have the chimney cleaned and inspected, too. The same goes for devices like gas fireplaces and pellet stoves. Portable heaters may not need inspections, but they should make sure they use them at least three feet from curtains and furnishings.

What Measures Are In Place to Avoid Common Fires?

The leading cause of home fires is related to unattended cooking. This is especially important to discuss if a parent is in the early stages of dementia. Forgetting about something cooking on the stove or in the oven can be dangerous.

If your parent has dementia, removing access to appliances is essential. Have caregivers available during the day and night to cook meals and snacks for your parents.

Any parent with dementia should have someone available to help in the evenings, too. As a family caregiver, you need sleep. It's helpful to arrange 24-hour home care services for that reason. While you're sleeping, a caregiver is up and ready to help your mom or dad with meals, medications, personal care, and more.

Make a call. A 24-hour home care expert will learn more about your parents, help you understand the different care services, and go over pricing. From there, you can book the most helpful services.
If you or your loved one is looking for 24-Hour Home Care in Aptos, CA, please call Familiar Surroundings Home Care.
Santa Clara County: (408) 979-9990 
San Mateo County: (650) 353-9777
Santa Cruz County: (831) 480-3990