How Does Companion Care at Home Improve Quality of Life for Seniors?
August 24, 2023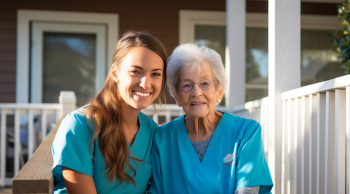 Maintaining quality of life is a big goal for family caregivers as they work out the best ways to care for the people they love. When seniors are determined to age in place, one solution that can work really well is companion care at home. This type of care is especially helpful when seniors may not need or want a great deal of hands-on help from home care providers, but they do need companionship and social support.
Fostering Social Engagement
The biggest reason to invite caregivers to visit with seniors is that they can simply spend time with that person. Having someone with whom to share conversations, stories, and experiences is a powerful way to get that vital social connection on a regular basis. Seniors who have someone to talk with routinely are more likely to experience positive impacts in all other areas of their lives.
Enhancing Mental and Emotional Well-Being
Mental and emotional well-being are absolutely essential for overall senior health and wellness. Companion care at home means that seniors are able to spend time with someone who listens and encourages them to remain mentally active and engaged. This helps to boost cognitive wellness overall and can inspire seniors to engage in other activities that also boost mental wellness.
Promoting Independence
Many seniors refuse offers of help and even companionship because they worry that they will lose some of their independence or become too reliant on other people to help them with daily life. This isn't the case at all and having time with elder care providers can actually improve and promote independence in seniors. This can help seniors to fully embrace their autonomy, knowing that help is available if they do indeed decide it's necessary.
Offering Tailored Assistance
No one situation is exactly like another, especially for seniors. The types of companionship and social interaction that caregivers can offer varies depending on the needs of the person receiving care. There's no one care plan that fits into every lifestyle and routine. Seniors can feel confident that the types of interactions they receive are going to be the ones that work best for their needs.
Helping to Create a Safe and Comfortable Environment
One big reason for family caregivers to consider companion care at home is that it allows them to have another perspective on how their seniors are doing. Professional caregivers are able to quickly recognize signs that a senior might need more help than family members realize. Their assistance can help family caregivers to take action when necessary to make sure that aging adults have the support and tools that they need in order to be as safe and comfortable as possible.
The personal approach that companion care at home brings to socializing makes a world of difference for seniors who are aging in place. They're able to have the meaningful engagement and emotional support that they need in exactly the ways that they want to experience that support. This offers peace of mind for everyone concerned, especially family caregivers.

If you or your loved one is looking for Companion Care at Home in San Mateo, CA, please call Familiar Surroundings Home Care.
Santa Clara County: (408) 979-9990 in
San Mateo County: (650) 353-9777
Santa Cruz County: (831) 480-3990