Juicing for Seniors, What Does It Do?
February 9, 2022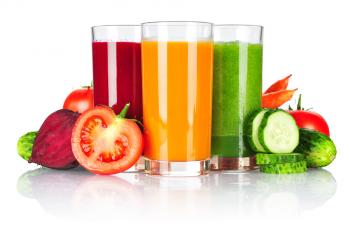 As we age, our bodies begin to absorb food differently. We tend to have smaller appetites, eating and swallowing become more difficult, and meal preparation becomes complex and even dangerous for a number of reasons. Juicing, smoothies, and other easy-to-swallow foods become desirable. The best part of juicing is that anyone can make it as long as the senior has a juicer. This means elder care assistance, you, or the senior can make these easily.
Juicing is a fashionable, healthful approach to supplement a senior's diet with nutrients. Whether you juice apples fresh from the tree or augment meals with store-bought drinks, juicing may be a healthful addition to your loved one's nutritional pattern. Meal prepping may seem like something easy to do but it can be dangerous the older the person is. Elder care assistance can easily help a senior make juices for the whole week.
While eating whole fruits and vegetables is the optimal method to intake nutrients and dietary fiber, many older adults prefer to consume food in unobtrusive liquid form. The best part is that veggies such as spinach, carrots, and kale may be put into juice recipes without your loved one tasting them. Fruit often overpowers the taste of any vegetables included in a juice mix. If you're having difficulty convincing your loved one to include fresh vegetables into their diet, juicing is a nutritious and delicious option. There are, however, a few factors to consider while determining the best approach to begin juicing.
Choose The Right Ingredients for The Best Results
While there is no one-size-fits-all treatment for the illnesses of an aging body, natural elements found in fruits and vegetables may help alleviate pain, decrease inflammation, and support immune system function. Certain vegetable combinations may have a favorable impact on the body on both a targeted and systemic level.
For instance, juicing carrots, parsley, ginger, and leeks help alleviate joint discomfort. Leeks and ginger are abundant in antioxidants and other vitamins and minerals that may aid in the reduction of inflammation throughout the body. Combine pomegranate, orange, and garlic for an immunological and cardiovascular boost. Pomegranates have been shown to decrease cholesterol and blood pressure and accelerate the dissolution of heart blockages (associated with atherosclerosis). You can discover a nutritious juice recipe for almost any disease with a little study.
Use Quality Produce for Juicing
When juicing or creating healthy smoothies, it is essential to use organic vegetables, particularly when utilizing whole ingredients with their skins and greens intact. While peels of fruits and vegetables are excellent sources of concentrated nutrients, pesticides tend to build in the peels of conventionally grown fruits and vegetables and on the green tops of root vegetables.
As we age, it becomes more difficult to care for our bodies and get the nutrients we need, yet eating greatly influences our general well-being. Juices may be used in place of manufactured vitamin capsules and pills as a natural nutritional supplement, or you can create customized fruit and vegetable combinations to enhance certain areas of an aging loved one's health.
If you or your loved one is looking for Home Care or Placement Services in San Jose, CA, please call Familiar Surroundings Home Care.
Santa Clara County: (408) 979-9990 
San Mateo County: (650) 353-9777
Santa Cruz County: (831) 480-3990