Heighten Safety By Cleaning Your Dad's Home Naturally
January 6, 2020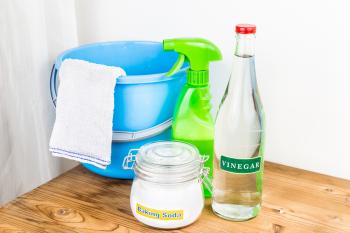 There are two reasons to look at natural cleaning products. First, the chemicals in many household cleaners can be harmful if your dad isn't using them correctly. If he's spraying a cleaner near his fruit bowl, the fine mist may be reaching his produce. He could be ingesting some of the cleaner.
Second, chemical cleaners cost more. Less expensive ingredients clean well and eliminate the risk of harm from chemicals. Here's what you should know.
Baking Soda to Remove Dirt and Grime
Baking soda is an alkali and does a good job removing dirt and grime. Put it on a sponge and add some water. Scrub the inside of an oven, sinks, and stovetops with it. Go back over it with a little water and a paper towel to remove any residue.
With a scrub pad and baking soda, sticky messes on refrigerator shelves go away. Use it to clean tile or linoleum floors, too. Again, wipe the residue away with a damp cloth or paper towel.
Coconut Prevents Water Stains in Sinks
Stop water stains on a stainless steel sink by polishing the metal with a little coconut oil. You don't want to use a lot. Take a small amount on a lint-free cloth and buff the surface of the sink. It adds a waterproof coating that will repel water and keep it from causing water spots.
Salt and Lemon to Polish Brass
Sprinkle salt onto half of a lemon. Polish brash bowls, candlesticks, and knobs with the lemon and salt. It will remove any green oxidation. When you're done, go over the item with a lint-free cloth to buff off any residue and leave the sheen you want to see.
Vinegar as a Disinfectant
For decades, white vinegar has been the first choice for chemical-free cleaners. A study found that bacteria that caused tuberculosis and E. coli were killed within 30 minutes when exposed to the acetic acid in white vinegar.
The study did show that diluting the vinegar with water did impact its effectiveness. For the best disinfectant properties, don't dilute it. If you hate the smell, add some lavender or lemon peel. Pour white vinegar into a spray bottle and use that to clean windows, counters, sinks, handles, knobs, phones, and keyboard keys.
Is your dad having a harder time keeping his home clean? It may benefit him to have caregivers stopping by once or twice a week to clean his home. Talk to caregivers about help with housework using these safer ingredients.
If you or your loved one is looking for a Caregiver in Saratoga, CA, please call Familiar Surroundings Home Care.
Santa Clara County: (408) 979-9990 
San Mateo County: (650) 353-9777
Santa Cruz County: (831) 480-3990
Sources:
https://mbio.asm.org/content/5/2/e00013-14