Six Important Tips for Bath Time and Your Senior
July 20, 2021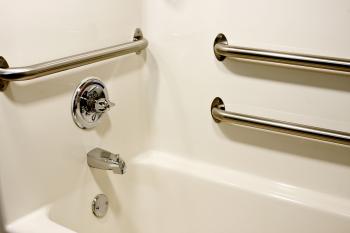 As your senior ages, you may find that something as simple as bathing becomes a much bigger issue. There are a lot of reasons that happens, but ultimately what matters is that you have a plan in place.
Ease up on When Bathing Might Be Necessary
Lots of family caregivers end up in debates about how often bathing should happen and what that should entail. It might be time to look at what you can set aside when it comes to bathing. Is a daily shower actually necessary? It might not be, and that might be a good compromise for you and your senior.
Prioritize Safety in the Bathroom
Safety is crucial everywhere, but especially in the bathroom where most household accidents are likely to happen. Consider modifications like installing grab bars in and around the tub or shower. Also make sure that you add non-slip mats to the floors. If anything else might make the bathroom safer, go ahead and do it.
Make Sure the Room Is Warm Enough
Often a cold bathroom can be a huge deterrent to bathing. Sensory issues like this are far more important than you might realize. Your senior processes temperature variations differently than she might have in the past, which means that keeping the bathroom warmer before and after bathing can reduce that sensory overload.
Protect Privacy During Bathing
Privacy is important, even if your elderly family member needs some extra help. Using washcloths and towels strategically can allow your senior to preserve some dignity while still getting clean. That can be hugely important for her psychologically.
Let Your Senior Do What She Can
Your senior may need help with bathing, but that doesn't mean that she's unable to do anything. If you can let her handle the aspects of bathing that she is still able to handle and help out only when necessary, that can improve her perception of bathing. It's important that she has autonomy where she can.
Explore Other Options
Sometimes the dynamic between you and your senior just does not lend itself to handling personal care tasks like bathing for her. That's not a terrible thing and there are answers. Hiring home care providers to assist your senior with personal care tasks, like getting dressed, bathing, and more, can be incredibly helpful in preserving your relationship and your senior's independence while still getting her the help that she needs.
Taking regular baths or showers is important for your senior's overall hygiene, but it helps to understand when to stand strong with this battle and when to compromise.
If you or your loved one is looking for Home Care in Palo Alto, CA, please call Familiar Surroundings Home Care.
Santa Clara County: (408) 979-9990 
San Mateo County: (650) 353-9777
Santa Cruz County: (831) 480-3990