What are Low Vision Devices and How Do They Help?
February 19, 2019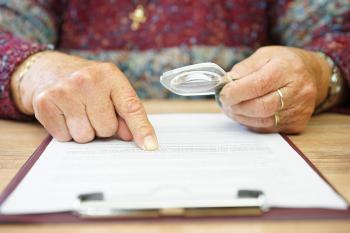 Is your aging loved one struggling to read the paper or can't see their beloved birds when they go bird watching? They may feel frustrated that they can no longer thread a needle or build a model. Even worse, they cannot see well enough to pay bills, follow a recipe, or read facial expressions. Most aging adults deal with some kind of vision loss, a condition that changes their lives significantly. The good news is that there are many low vision devices out there that can assist them in compensating for their loss of sight.
Types of Low Vision Devices.
Caregiver in Palo Alto CA: Low Vision Devices
Aging adults can work with their eye doctor and family caregiver to identify which tasks they need assistive devices for and what might work best. There are many types of low vision devices designed for both up-close vision and faraway vision. With time and patience, seniors can utilize different devices as tools to help them accomplish a range of daily tasks.
Some of the more common low vision devices include hand-held magnifiers, stand magnifiers, clip-on loupes, magnification glasses, and even telemicroscopic glasses. With these close-up viewers, seniors can overcome a lot of their poor vision limitations and accomplish a number of daily tasks. For distance viewing, aging adults can use devices such as clip-on monocles, hand-held telescopes, and biopic telescopes that attach to the glasses. Most of these give seniors hands-free options so they can maximize their abilities.
Helping Seniors with Low Vision Devices.
It can take some time to get used to using low vision devices and seniors may feel frustrated at first. With the help of family caregivers and home care providers, aging adults can experiment with different devices to see what works best. Eye doctors and low vision specialists will be able to help focus on the best devices for the tasks at hand. Like many skills, it takes a little time to learn how to use low vision devices to the best of their ability.
Some tips for using low vision devices include maximizing light sources, bringing objects closer, keeping the largest field of view possible, avoiding blocking out light and asking for help from family caregivers and home care providers. If one device simply isn't working for them, aging adults can find another similar device that might work better. For example, if they get tired or cramped from using a hand-held magnifier to read a book, a stand magnifier with a swivel neck and built-in light may work better.
Vision is so important to enjoying life and being able to do many of the daily tasks required to stay comfortable, informed, and safe at home. When seniors struggle with poor vision, it can be difficult for them to give those things up. With low vision devices suited for multiple tasks, they don't always have to.
If you or your loved one is looking for caregiver services in Palo Alto, CA, please call Familiar Surroundings Home Care.
Santa Clara County: (408) 979-9990
San Mateo County: (650) 353-9777
Santa Cruz County: (831) 480-3990