Should You Invite the Whole Family to Holiday Meals?
November 18, 2021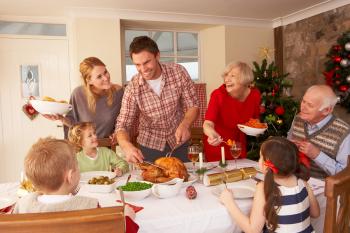 Your dad has Alzheimer's and tends to get flustered in large crowds. As the holidays approach, you're trying to decide if a big family gathering is a good idea. Should you invite all of the family to this year's holiday meals?

Ask Yourself These Questions

Before making any plans, talk to your immediate family and discuss holiday meals. Your brother may prefer to skip it and go eat a meal at a friend's house. He wants to join your dad on a different day. Your sister lives out of town and wants to wait until flights are less expensive. If so, plan a smaller meal with your dad.

How well does your dad do in a crowd? If he gets easily stressed or agitated when there's too much activity, a larger family gathering isn't a good idea. Plan a small meal with people he recognizes and enjoys spending time with.

Is there a safe space for him to go to if he feels overwhelmed? If the situation is too much for him, can he shut himself in a bedroom to take a nap or watch a movie? Will others try to check on him too much and increase his agitation? He needs that space to be alone as required.

What can he eat? If your dad is eating mainly finger foods, you need to make sure the meal won't be too extravagant. He needs foods he can pick up and eat with his hands without anyone looking at him or making comments.

Should your family gather? Your dad is vulnerable to viruses. He's not going to remember to wash his hands regularly or use hand sanitizer. It would be best if you focused on his safety. That may mean a large gathering isn't the best idea for now, especially if your dad hasn't been vaccinated or has had his vaccination more than six months ago.

What Happens Outside of the Holidays?

Families often gather during the holidays, but the rest of the year, people live too far away to visit often. If you don't live close to your dad, who spends time with him?

When your dad needs constant care and supervision, book 24-hour home care services to ensure he's never alone. With around-the-clock caregivers working in shifts, he's supported all day and all night. He won't feel alone or struggle to get a meal or snack if he's awake early in the morning. Call to learn more.
If you or your loved one is looking for 24-Hour Home Care in San Mateo, CA, please call Familiar Surroundings Home Care.
Santa Clara County: (408) 979-9990 
San Mateo County: (650) 353-9777
Santa Cruz County: (831) 480-3990