Long-Term Decisions You and Your Dad Need to Talk About
September 23, 2021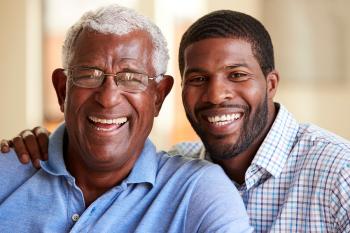 Focusing on the present is important, but your dad's plans to age at home require you to make a few long-term decisions. You and your dad need to talk about these aspects of aging at home to make sure he can stay in his house without risking his health or safety.

Look at His Home's Positives and Negatives

Your dad loves his home, but every home has at least one fault. When it comes to aging at home, you have to be realistic about your dad's house. Is it designed for aging at home? If his home is an old farmhouse, what happens if the stairs become too much for him to climb? Can he get to a bathroom, bedroom, kitchen, living area, and exterior door without using the stairs?

How spacious is your dad's bathroom? If he needed a cane, walker, or wheelchair, would he still be able to use his bathroom, or would renovations be necessary? Is his shower a walk-in unit, or does he need to step over the side of a claw-foot tub?

Is his home air-tight, or is it drafty? If his house is drafty, are his heating bills affordable? Would additional insulation and new windows or doors drastically lower his heating fuel and electricity bills?

Consider some of the safety features you could add for him. Grab bars in the bathroom, non-slip vinyl plank flooring, and brighter lighting are all options. Some of these projects are easy DIY projects, while others may require a contractor's expertise.

Ask About His Family Health History

You should know about your dad's family health history. It matters not only to him but also to you. You should know if there is a family history of certain chronic conditions that are more likely to follow genetic lines. You want to know if your dad has a higher risk of colon cancer, high blood pressure, or diabetes.

If you know potential health issues in advance, you can work on taking steps to avoid them. You may want to adjust your dad's diet to lower his risk or ensure his doctor screens him for these health issues each year.

Talk to a Home Care Specialist About In-Home Care

If he needs help, you can provide it, but you need to make sure you're not taking on too much. Sometimes, family caregivers find themselves overwhelmed when trying to balance their jobs, the care their children need, and the help they offer their parents.

You get it. You're trying to do it all, and it's getting overwhelming. In-home care services for your dad ease some of your stress. Let caregivers help you ensure your dad has a comprehensive care plan that doesn't cause unnecessary stress and anxiety. Hire in-home care aides to assist your father, and you can focus on your other obligations.
If you or your loved one is looking for In-Home Care in Menlo Park, CA, please call Familiar Surroundings Home Care.
Santa Clara County: (408) 979-9990 
San Mateo County: (650) 353-9777
Santa Cruz County: (831) 480-3990