The Benefits of Exercise for your Senior
November 24, 2020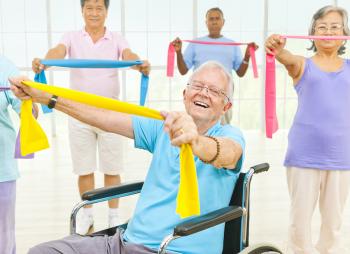 From early on in life, we are taught the importance of exercise and a healthy lifestyle. Kids are encouraged to play outside and participate in sports. Teens are told to get off their phones and join sports teams or friends that promote activity. As adults, we join gyms, plan walking dates with friends, and explore parks with our kids. These good, healthy guidelines do not end once an aging parent reaches a certain age. In fact, research has shown that an active lifestyle for your aging parent is not only recommended but practically required for your parent to live out her golden years with more freedom and enjoyment. Let's look at some of the benefits an active lifestyle can have for your senior, and ways you and your home care provider can support your parent's quest for physical activity.
Preventing Falls
Sustaining serious injury from falls is unfortunately a common occurrence for many seniors. According to the National Council on Aging, a senior is admitted to the emergency room every 11 seconds with a fall-related injury. Keeping your senior parent active with exercises such as yoga and walking, helps prevent the likelihood of a fall by building up necessary muscles and keeping your parent's equilibrium balanced. Your home care provider can help by physically going on a walk with your senior parent or simply encouraging your parent to go out and take a walk when she can.
Providing more independence
If you're providing care for an elderly parent living at home, your parent has most likely expressed his desire to live independently as long as he can. Regular exercise keeps strength up, spirits lifted and the mind active. It provides the ability to do things such taking a bath, getting dressed and using the restroom independently-- all important parts of living at home. And while a home care provider will be more than able to help your parent with any of these tasks, your parent would probably prefer to do them independently for as long as possible.
Increasing energy
While it may seem counterintuitive at first that getting out and exerting oneself will actually provide more energy, it does. Exercise produces endorphins, which provide a sense of well-being as well as reduce the negative reactions to pain. Inactivity leads to boredom and more fatigue; regular exercise leads to increased mental stimulation and energy for future activity. Sometimes your parent might need encouragement to get off that couch so enlist your home care provider to gently and kindly suggest activities for your parent to do each day, even if it's as simple as walking out to the mailbox.
Reducing the risk of certain diseases
Regular exercise can help your aging parent avoid diseases such as heart disease, diabetes and osteoporosis to name a few. If your parent is already diagnosed with any of these diseases, exercise can prevent the disease from getting worse and may even make improvements on the progression and symptoms of the disease.
Like many of us, taking the first step toward a more active lifestyle is often the hardest step. With the encouragement of you, your family and your home care professional, your parent will be more likely to step into a regular exercise routine and will be enjoying the benefits in just a short while.
If you or your loved one is looking for Home Care or Placement Services in San Jose, CA, please call Familiar Surroundings Home Care.
Santa Clara County: (408) 979-9990 
San Mateo County: (650) 353-9777
Santa Cruz County: (831) 480-3990
Source: https://www.seniorlifestyle.com/resources/blog/7-best-exercises-for-seniors-and-a-few-to-avoid/