Four Things to Think about Before Your Senior Moves In
February 11, 2020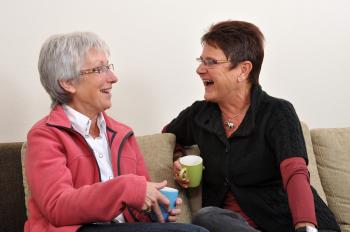 If your aging family member is considering moving into your home with you, there's a lot for you both to think about. This kind of decision requires you both to be open and honest, too, because there's no real wrong answer.
Living in the Same Place Can Make Some Things More Difficult
Not that you want to think that this will be a difficult situation, but it can make some aspects of your relationship with your senior a little more difficult. It can also be more difficult for you to be a caregiver. If you haven't lived together in a long time, or ever, you might both find that there are some things you need to learn about living with each other. You might feel as if you don't have your own space or your senior might feel as if she's not able to be as independent as she wants to be. There are compromises you'll need to make.
Living in the Same Place Can Make Some Things Easier
This move can solve some dilemmas you've both been facing, though. You might find it complicated to have to go back and forth between your home and your senior's home so much, which is understandable. It can help your senior to relax a little to know that you're in the same house with her, all the time now. This is also a good way to ensure that your senior is as safe as possible all the time, when before you might have done a lot of hoping.
Will Other Family Members Be There, Too?
Often this sort of decision is one that's made to help you to keep meeting your obligations in your own home, with kids or other family members, for instance. If some of those other family members are able to help you with your workload as a caregiver, that can make a big difference in how both you and your senior experience this caregiving journey. That can be beneficial in other ways, too.
Keep the Lines of Communication Open
Well before you and your senior do anything that might be construed as permanent on this topic, start talking through what you both expect. Expectations can be the best thing about situations like this or they can be the downfall. Make sure that you're both clear about what this move is going to mean and how it should go before it all happens.
Maybe after all of these considerations, you and your senior decide that now isn't the right time for her to make a move. That can be okay, too. What you're looking for is a solution that makes sense for both of you.
If you or your loved one is looking for a Caregiver in Redwood City, CA, please call Familiar Surroundings Home Care.
Santa Clara County: (408) 979-9990 
San Mateo County: (650) 353-9777
Santa Cruz County: (831) 480-3990