Learn About the Many Benefits of Personal Care at Home
August 4, 2021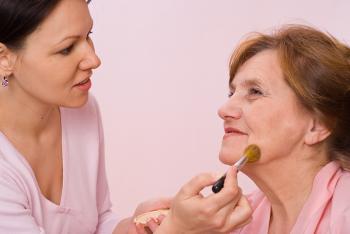 What do you know about personal care at home? Have you ever sat down to look at all of the benefits available as your mom ages at home? These are just some of the reasons to consider hiring professional caregivers.

Extra Help With Personal Care and Grooming

Your mom can shower by herself, but she's having a harder time with some grooming tasks. Her skin is often dry, so she likes to slather on a moisturizer after her shower. Reaching her back, the bottoms of her feet, and the backs of her legs isn't as easy as it used to be.

She needs someone to ensure moisturizer is applied to those areas. Caregivers help with that, and they also assist with hygiene and grooming tasks like brushing and flossing teeth, trimming nails, and shaving legs and armpits.

Help With Shopping and Errands

Your mom doesn't drive anymore, but she doesn't live in an area where she can have her prescriptions, groceries, and other items delivered to her home. She can have caregivers bring her to stores and businesses on shopping days and while running errands.

Assistance With Housework and Laundry

Sometimes, it gets harder to do the housework or laundry when you're dealing with arthritis or other chronic conditions. Your mom has a hard time vacuuming the stairs, so she doesn't bother. Pet hair is piling up. She could have a caregiver vacuuming for her.

Laundry is another chore caregivers can do. They can carry the laundry basket down to the basement laundry room, wash and dry the clothing, fold it, and put everything away.

Reminders When It's Time to Take Prescription Medications

Your mom takes several prescription drugs, but she often forgets to take them when she first gets up. Or, she cannot remember if she's taken them and takes more. You worry about the risk of an overdose, so you purchase a pill organizer. She still struggles.

Caregivers can help her remember to take them. She'll have her caregiver offer a reminder and stay with her while she takes her pills. The caregiver is also in the house if your mom experiences any unpleasant side effects.

Gain Support of a Companion

Your mom may not have many friends around the area now, but that doesn't mean she has to feel lonely. Companionship is one of the many options with personal care at home. She has a caregiver to take her on outings, join her for a rainy-day movie afternoon, or play board games with her when it's too hot to go outside.

Personal care at home is one of the best ways to keep your mom safe as she ages at home. Her caregivers support her, and you're able to take breaks when you need them. Call an agency to learn more about pricing and services available locally from personal care at home aides.
If you or your loved one is looking for a Caregiver in San Mateo, CA, please call Familiar Surroundings Home Care.
Santa Clara County: (408) 979-9990 
San Mateo County: (650) 353-9777
Santa Cruz County: (831) 480-3990