Tips for Helping an Elderly Adult Manage Their Health
October 7, 2019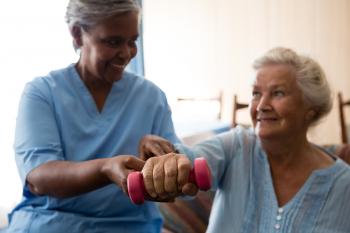 When it comes to elder care, there are many different diseases and conditions the elderly person might get. Diabetes is very common in the elderly, especially for those who are overweight. There are many other conditions they could get, as well. The good news is that there are some tips for helping an elderly adult to manage their health. By following through with these tips, you can ensure the elderly adult in your life is kept as healthy as possible.
Blood Sugar Management
You will first want to make sure the elderly person is maintaining their blood sugar. You can help them by keeping a record of their daily glucose readings, exercise schedule, medicine schedule, how they feel over the course of the day, and their meals. Someone who has diabetes should have regular doctor's appointments and you can bring this log to those appointments with your loved one to be sure everything is going alright.
Oral Hygiene
Many seniors are more prone to health issues in their mouths. You should make sure they keep up on proper oral hygiene. Make sure they are brushing and flossing at least twice a day. If they have dentures, be sure they are cleaning them properly. You can help the senior in your life to prevent gum disease.
Nail Care
Even something as minor as an ingrown toenail could cause issues such as an infection. You can check the senior's nails and make sure they are in good health. You should look for any signs of infection such as swelling, pus, or color changes.
Proper Bathing
As a caregiver, you should make sure the senior is taking a bath or shower properly. You want to make sure their skin doesn't dry out. You also want to make sure they don't cut themselves on anything in the shower. A little injury could be a serious problem, especially if the senior has diabetes. If the senior has nerve damage, they may not notice they cut themselves.
Exercising Safely
Seniors should be exercising. However, they should wait 1 hour after eating before they exercise. If the senior is exercising outside of their home, they should have a snack that is high in carbs, water, and their ID tag for diabetes if they have one. Blood sugar levels and how the senior is feeling should also be checked before and after the exercise time is finished.
Coping with Stress
As a caregiver, you can also help the senior to better manage their stress. Stress can cause many problems in a senior's life. It can mess with their blood sugar, give them headaches, make them feel weak and much more. Encourage activities that help them to combat stress in positive ways such as deep breathing, walking, meditation, and gardening.
You can help an elderly adult to manage their health. By following through with these tips, you can help the senior to feel better, stay safe, and to keep in good health.
If you or your loved one is looking for Elder Care in Saratoga, CA, please call Familiar Surroundings Home Care.
Santa Clara County:
(408) 979-9990
San Mateo County:
(650) 353-9777
Santa Cruz County:
(831) 480-3990
Source
https://www.niddk.nih.gov/health-information/diabetes/overview/managing-diabetes/know-blood-sugar-numbers
https://www.nhs.uk/live-well/exercise/physical-activity-guidelines-older-adults/