Could Home Care Assistance Help Seniors Age Independently?
September 6, 2023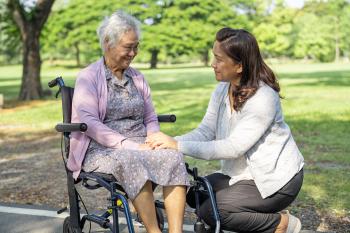 When seniors think about aging independently, their goal is usually to remain in their homes and to continue living life on their own terms. Unfortunately, the problem is often that they do still need some help, especially as their health changes. Home care assistance is the perfect answer because seniors get the assistance that they need, they're able to remain in their own homes, and they're not struggling to have the quality of life that they want to have.
Consistent, Professional Care
Home care assistance providers are there with the people they're helping on a consistent basis. They're trained in helping aging adults in all of the various ways that they need help and they're happy to spend time with seniors. They also build relationships with the people they're caring for, getting to know their needs, personalities, and preferences.
Personalized Care Plans
No one person's care plan is the same as every other care plan out there. Each senior has unique needs and caregivers are able to account for those needs as they put together a care plan. Seniors who need help in different ways can ask for that help, making it even easier for caregivers to meet those needs consistently.
Respite for Family Members
Even the most devoted family caregivers need to take time for themselves. They need rest and they need to take care of other responsibilities at times. During those times, it helps a lot for them to know that the seniors they love are in excellent hands until they get back.
When family caregivers are getting the rest that they need, they're more prepared to care for the people they love.
Monitoring and Communication
Often family caregivers need help staying on top of what's going on with the seniors they love. When elder care providers are able to monitor what's going on and communicate that to family caregivers, they're better informed. This can help them to stay on top of health issues as well as other concerns.
Social Engagement
Seniors who spend time with home care providers are getting much more social engagement than they might otherwise get. If they no longer drive or they find themselves self-isolating due to health issues, seniors experience issues like loneliness and depression much more quickly than they realize. Having caregivers there with them on a regular basis can help to avoid these problems.
Transportation and Mobility Assistance
If seniors do need to stop driving, one of their chief concerns can be that they won't be able to go anywhere anymore. That doesn't have to be the case, though. Home care assistance can take over the driving duties, ensuring that seniors are still as mobile as possible. This gets them to medical appointments and other locations whenever they need and want to go. If seniors are experiencing other problems with mobility, caregivers are there to support them safely.
There are so many ways that home care assistance can make aging in place not only possible, but also as safe as possible for seniors. They're able to do so while also maintaining their independence, which is crucial for mental health.
If you or your loved one is looking for Home Care Assistance in Menlo Park, CA, please call Familiar Surroundings Home Care.
Santa Clara County: (408) 979-9990 in
San Mateo County: (650) 353-9777
Santa Cruz County: (831) 480-3990