Five Ways for You and Your Mom to Learn Something New
January 28, 2020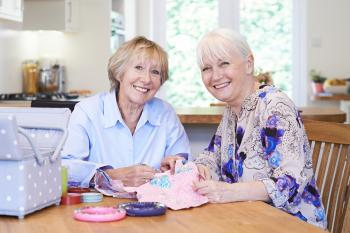 You're never too old to learn something new. It's often easier if someone joins you in your endeavors. You and your mom could team up and learn something new. You have the support of each other to help with studying and putting your newly learned skills to the test.
Pick Something You Both Enjoy
Make sure the hobby or class you decide to take together appeals to both of you. If one person is only slightly interested, it makes it harder to succeed. Go through different options until you find the one that excites both of you.
Figure Out How Much Time You Have
If you only have a few hours a week, make sure the thing you choose to learn together is a realistic goal. If you only have a few hours, something that requires two nights of homework or practice per night won't work well.
Decide if You Want to Learn at Home or Somewhere Else
Does your mom want to stick to learning something new at home or would she like to go out? If she isn't willing to leave her home, you'll need to stick to things you can learn together in her home. Pick nights or days that are convenient and learn together there.
Try These Ideas to Start Making Decisions
You and your mom could learn self-defense skills together and gain confidence. You could learn how to knit or paint landscapes. Or, master the skills of professional photographers. Exercise your brains while learning to speak a new language.
Add Incentive to Help You Achieve Your Goals
Incentives can help you stay on track. If you decide to learn a new language together, put aside a savings account at the same time. Give yourselves a specific amount of time to learn a beginner's language course. When you're done, travel to that country together.
If you decide to learn Italian together, save up for as long as is reasonable and go to Italy together. You'll be able to test out your new language skills as a team and have an amazing trip together.
Your mom may not enjoy the idea of traveling as she ages. You could keep it closer to home and go to an upscale Italian restaurant. It won't cost as much, but it will be a fun night out using correct pronunciations.
What does your mom do when you're at work or tending to other responsibilities? If she's alone and lonely, senior care services are important. She should be isolated and lacking for companionship. Call a senior care agency and ask about weekly companionship services.
If you or your loved one is looking for Senior Care in San Jose, CA, please call Familiar Surroundings Home Care.
Santa Clara County: (408) 979-9990 
San Mateo County: (650) 353-9777
Santa Cruz County: (831) 480-3990