4 Signs That Your Senior Should Stop Driving
November 18, 2019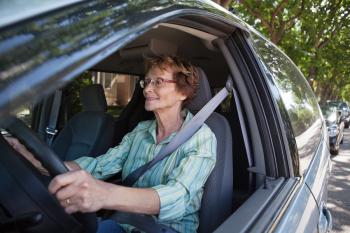 For many adults that have senior parents that are needing or receiving elderly care at home, knowing whether or not their parent should stop driving is a tough but important issue.
When the time comes for a senior to give up their driver's license, it can be a very difficult decision and many seniors are not agreeable to the idea right away.
In some instances, children and caregivers of seniors are trying to determine when the proper time to take the keys is, which can be hard on them too, as they realize that their parent will be losing a part of their independence and that they may be required to do even more for their parent now that they will be unable to drive.
If you have a senior parent or loved one and are wondering when to take the keys, here are 4 signs that your senior should stop driving, at least until you can have them evaluated by a health care professional.
Reflex Issues
If you are noticing that your senior has decreased timing on their reflexes, this may be a sign that they should stop driving. When we are behind the wheel, quick reflexes are important. Needing to stop unexpectedly, reacting to driving hazards, and being able to quickly adjust to differing road conditions is an important part of driving and something that could result in injury or damage to property if your senior is unable to react in a timely manner.
Traffic Incidents
If your parent or loved one is already receiving traffic tickets for driving infractions, or if they have been involved in accidents, even minor ones, you may need to reconsider whether or not they should still be driving at all. As seniors age, there are many factors that can prevent them from being able to safely drive, which can all contribute to accidents and tickets adding up.
Vision Impairment
Obviously, vision is an important part of driving for everyone, no matter your age. Sometimes as seniors age, they may start to comment about not being able to see as well at night. Some develop cataracts or have issues with their peripheral vision which makes it more difficult and less safe to be behind the wheel. If your senior is making comments about not being able to see as well, or you are noticing that they are driving under the speed limit, get their vision checked as one of the first lines of defense when trying to determine whether or not they should continue to drive.
Memory Issues
For seniors receiving elderly care at home, occasional memory issues are not uncommon as they age. However, if you start to notice that they are having recurring issues with their memory, forgetting where they are going, or having trouble getting home from where they are, this is a big red flag that you need to evaluate whether or not they should be allowed to be behind the wheel. If your senior is getting lost, or forgetting where they were going to begin with, this can create a very unsafe situation for your senior and it may be time to take the keys and have them checked out by their doctor.
If you or your loved one is looking for Elderly Care in Menlo Park, CA, please call Familiar Surroundings Home Care.
Santa Clara County:(408) 979-9990
San Mateo County:(650) 353-9777
Santa Cruz County:(831) 480-3990